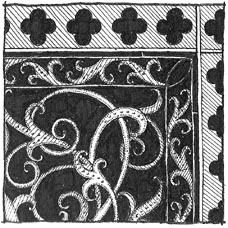 Whenever I'm walking south to Printer's Row I always make it a point to go through the first floor of the Monadnock Building. Its dim, ponderous hallway always brings me back to old, 1890s Chicago. At 16 stories it was briefly the world's tallest office buildng. But if you visit make sure to notice the cast aluminum ornamentation.
In the mid 1800s aluminum cost $545 per pound, which made it more valuable than gold or silver. In 1886 a scientist at Oberlin College (20 minutes from my hometown, Lorain, OH) discovered how to separate pure aluminum via electrolysis. By 1892 the cost had droped to 57 cents per pound. But I'm sure it still had a certain appeal to the architectural elite. So the Monadnock building was outfitted with aluminum newel posts, staircases, and grillwork. The drawing above is detail from the air return at the entrance off of Van Buren. Nice stuff.
Just as a note, someone recently sawed off one of those newel post caps from an upper floor. No one noticed. Or if they did notice, it didn't occur to them that anyone could do it without official sanction.