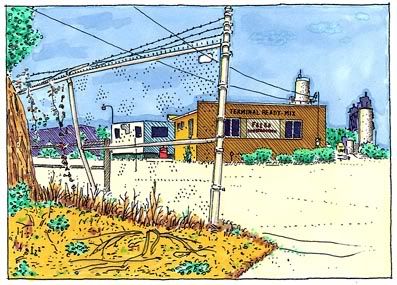 I asked Angela to take a few snapshots on our way out of Lorain, and this drawing is adapted from the best one. Although to be fair, it just barely edged out the Wonder Hostess Bakery Outlet further down the road.
Falbo Construction is one of the few remaining industrial businesses I remember from when I was a kid. I think they sponsored a baseball team, or a soccer team. Or maybe both. Much of the docks, mills, and plants along the Black River have since been abandoned or replaced with new development.
When I was a kid I used to risk death to jump on the slow moving trains down the embankment east of Broadway. Now most of the tracks have been pulled up and replaced with gazebos for river-front festivals. Maybe someday there'll even be a fast and easy commuter connection with Cleveland.
For 20 years Lorain has been trying to make the leap from depressed steel, ship, and auto manufacturing into a kind of recreational suburb for empty nesters and the boating set. But it feels forced to me. It feels counter to the character and history of the city. This was a tough city, where you could make a good living if you were willing to work hard. Maybe that's why I was glad to see Falbo Construction. Not pretty, but tough.