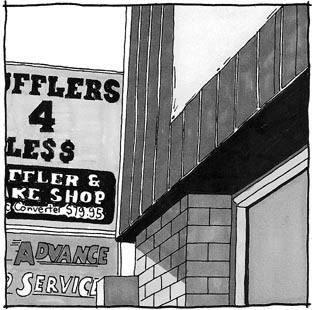 6800 N. Clark
Car repair
Well, we had a nice holiday weekend, with just a few setbacks.
On Saturday we went to Lunt Avenue beach and splashed around for a while. We made a discovery a few weekends ago- if we take Felix to the beach, let him run around like a crazy toddler for an hour or so, stuff him with snacks and plop him in the stroller he'll usually fall asleep for an hour or two. Then we can go out for a leisurely, adult-style lunch while he dozes peacefully next to the table. So on Saturday we decided to go to Carmen's near Loyola, which has a great lunchtime pizza deal. After 45 minutes our waitress came to our table and said, "Can I get you any dessert, or just the check?" Um....how about our pizza? After an hour she admitted that the order was never put into the kitchen and offers to give us one of our lunches for free. Not enough, bad waitress. Meanwhile, Felix begins to stir. So we left, without our pizza. It wasn't like the place was crowded, either. Carmen's sucks. They still owe me for a piece of cheesecake that I paid for but never arrived in our delivery order.
So later that night Felix develops a fever and we spend Sunday watching cartoon movies and feeling very claustrophobic. In the evening we met our friends at the only taqueria in Rogers Park that has an outdoor patio, La Cazuela, just across the street from the library. Too bad it took us 8 years to find this place.
On Monday we took Felix to a super cool water park near Armitage and Clybourn (Adams Park). Highly recommended. Later that night, the fever returned, so everyone was up at 2 a.m. Just in time for the return of the work week.
But still, not a bad weekend. An inconvenience or two does not equal a trip to the emergency room.