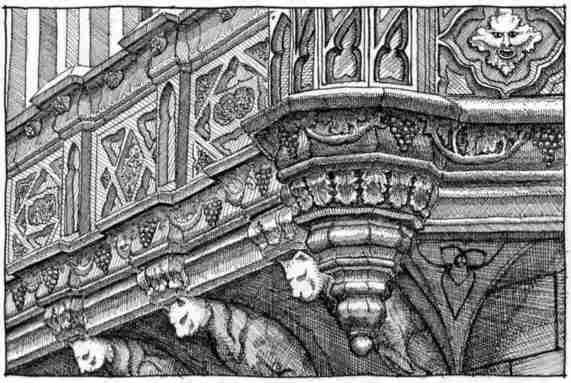 Since my series on monumental lighting is moving slowly I thought I would post some older blog entries. This one is from my old MySpace account, viewed by at least half a dozen people.
This is a detail of a projecting terra cotta bay on a strange late Gothic Rennaisance Revival building in Rogers Park. Somehow the builders took a lot with a 50 foot frontage and dropped a 13 story building on it. To be fair, it's pretty nice looking, with some exceptional terra cotta details. And how about those cat brackets supporting the bays? Maybe they're supposed to be lions, but they look too lean. According to the Chicago Historic Resources Survey, the architects were Koenigsburg & Westfeld. Every hear of them? I'm guessing probably not. This used to be the Pratt Lane Hotel.
I was thinking about people in the Lakeview neighborhood upset about new buildings next to them that are 2 or 3 stories taller. Imagine living in the single family home next this building in 1927 and seeing steel columns being sunk 6 inches from the property line. And construction continued for 3 years... Maybe the whole neighborhood would have followed suit if the Depression hadn't hit.
Looking at this again I realize that the scan is pretty crummy. I may have to dig up the original and rescan. Or perhaps the original drawing is crummy. If that's the case, I'm out of luck.